Basic details to include
It is useful for us to know which version of Mac OS X or macOS you are using as well as what type of a processor your Mac has. You can find out this information by clicking on the Apple menu at the top left corner of the screen and choosing About This Mac from the menu.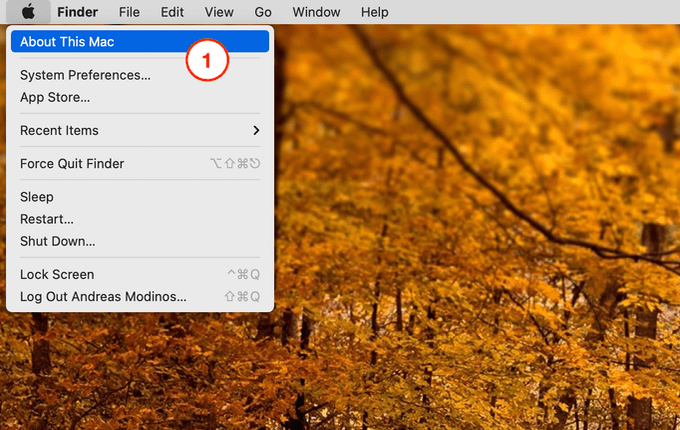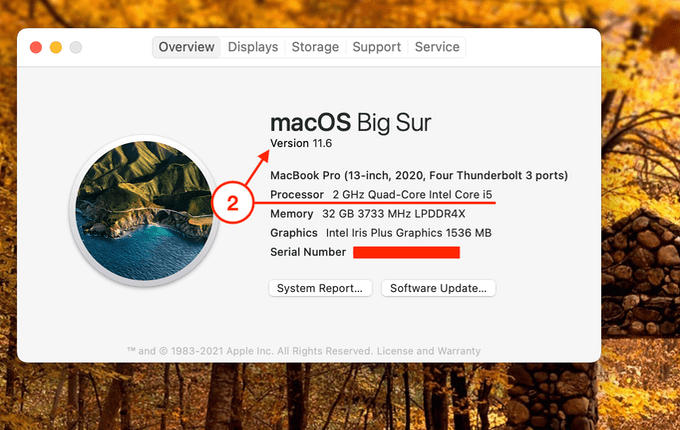 Information about the driver
You can gather details about third party drivers, including ours, by opening Terminal (Applications → Utilities → Terminal) and issuing the following commands:
kextstat | grep -v com.apple
ls -la /Library/Filesystems
You can take a screenshot of the output produced by each command, or you can simply copy and paste the text directly from the Terminal-window and include the information in your support request or email.
Submit log files for a more in-depth analysis
When debug log is enabled, the utility that helps mount, format, and probe volumes (among other important things) writes more detailed information in designated log files.
The log file is saved to /Library/Logs/tuxera_ntfs_util.log, but if access to this location is prohibited, it will be placed in the user's local library instead (/Users/username/Library/Logs/tuxera_ntfs_util.log).
You can enable the debug log in System Preferences. Start by clicking on Microsoft NTFS by Tuxera, then unlock changes to settings by clicking on the padlock-icon at the bottom left corner of the window and supplying your password. After this, toggle the Enable debug logging-option.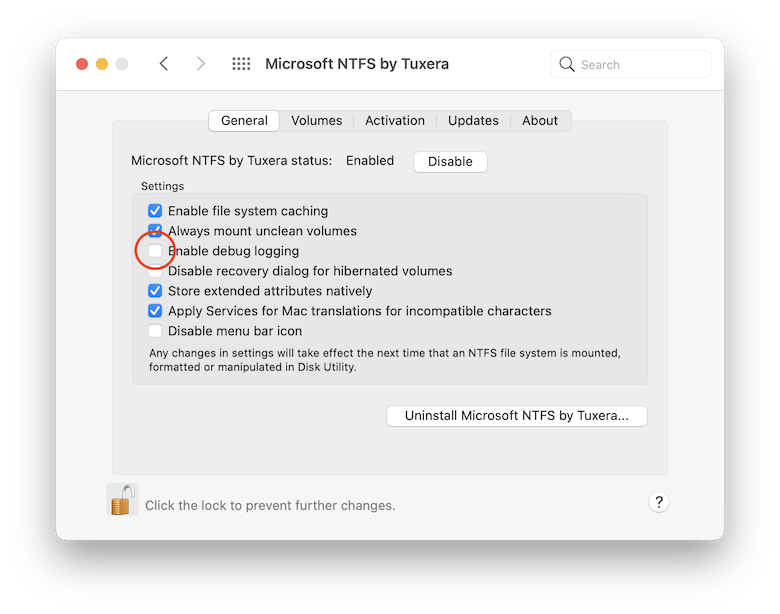 Once you have done the above, attempt to use your disk and perform the same actions that have previously resulted in unwanted behavior or errors, so that the relevant details are captured in the log.
To attach the log files to your support request do the following:
Open Terminal (Applications -> Utilities -> Terminal) and type the following commands:

open /Library/Logs

open /var/log

Each command should open a Finder-window displaying the contents of the requested folder.


Locate the tuxera_ntfs_util.log and system.log-files from the open Finder-windows and drag and drop each to your desktop to make a copy there.


Include both files in your reply as attachments.